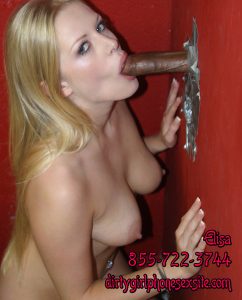 I love mystery cock night! It's my favorite Coed XXX games! We all get fucking wasted, higher than fuck, and do just that. Fuck! But, it gets better! There's two walls in our party room with my favorite things in them… Glory holes! The sorority leaders gather a bunch of random guys from the student body AND faculty, and we don't get to know who's cock we fucked and sucked until after their loads got blown in or on us!
It's so fucking hot, slobbing on a hard cock, bending over and fucking it right against the fucking wall, and imagining who was on the other side!
This massive, hard, BB dick hung out last weekend, and I had to have it! It was so long, thick, and incredibly hard and heavy! I dropped right down and spit on that meat hammer, taking it as far down my throat as I could fit it. My fucking cunt was so fucking wet and horny, I turned around, lined up that huge, throbbing head, and shoved it all the way i my pretty little box. I thought it was going to tear open my fuck hole, and turn my belly button into an outie!
When he came, it ran down my leg in thick, delicious globs!
But, I didn't come near as hard from that, as from finding out it was Mr. Greene! Our dean!