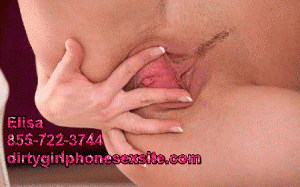 Guided masterbation is so much fun with my wonderful, sexy callers! Terry, (he's one of my favorites) is so very good at it! He called me a few days ago…
I always follow his instructions. He caught me at my desk before I moved into my bedroom, and gave me my orders.
He told me to describe the tight mini skirt and corset I was wearing. Then, this is what I was told to do…
I stood up, and slid my skirt up my thighs slowly, exposing my pretty bald, wet cunt, then sit on my desk. He told me to put one leg on the desk, leaving the other on the floor, so my little pussy was nice and spread. Then, slide my fingers over my clit, and up and down my slit, before tasting them.
"What do they taste like?" he asked.
"Like my cunt is horny and ready to cum, sir." I replied.
"Good girl. Now, untie your corset a little, so your tits can come out of the top and stay there, like a good little slut."
"Yes sir." I replied, as I did what I was supposed to do. My nipples were so hard, giving me goosebumps.
"What do you have on your desk, slut?" He asked.
After listing a few items, he told me to pick up my stapler, and spread my lips extra wide.
"Now, slut, put that stapler up to that pretty little fuck hole of yours, and start sliding it in nice and slow. STart rolling that little clit. Tell me everything."
I told him how good the cold metal felt in my hot kitty, and how I could feel my love juices running along it, covering my fingers. I described to him how hard my clit was, and how every flick of it sent shocks deep within me.
"Good girl, start fucking yourself with it. Harder, good, good, moan for me, whore!"
I'm glad he told me to, I couldn't help it, I felt my pussy tightening and twitching, getting closer and closer to orgasm. He could hear it in my moans, as he told me "That's a good cum slut, harder! Don't fucking stop! Now come for me! Come for Daddy, now!"
And at those words I exploded!  A big squirt sprang from my cunt, soaking my hand, and my floor as I screamed for him!
"Good girl, lick that stapler clean, and get your biggest toy. Oh, and I want to extend the call by another half an hour.
Fuck, I love my job!