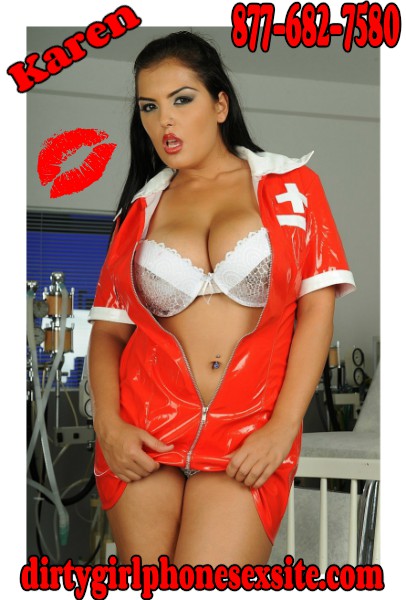 Sensual fantasies about being a dirty nurse filled my dreams last night. I woke up this morning with an extra juicy and tingly pussy. As I was going through my closet getting ready for my day job, I stumbled across my red latex nursing uniform. My pussy started getting creamy just from the dirty little thought that popped into my head. I grabbed that little red latex number and headed into work. On my lunch break I called country boy and told you that I need you to swing by my office at the end of the day.
When you showed up, I was the only one still there and I greeted you with my red latex nursing outfit that clung to my heart shaped ass and great big tits. I told you that I needed you to follow me back to the examining room. That it seems you are in need of your yearly physical. I told you to go ahead and take off all your clothes. I took my cold stethoscope and ran it across your nipples watching as your big delicious cock grew harder with every touch.
I told you to lay back on the examine table that I needed to inspect your cock and balls. I placed your balls in my hand and lightly gave them a tug. I took my tongue and licked the underside of your big thick cock paying extra special attention to that very sensitive area called the frenulum. I told you that I needed to drain your balls to make sure everything was working properly.
While my mouth was sucking on the head of your cock, I reached back and inserted two of my fingers up your tight puckered ass. I wanted to make sure I drained every last drop of your warm creamy cum from your great big balls and nothing works better than a good prostate massage accompanied with a deep throat blowjob. As my fingers were fucking your ass, I slide my warm wet mouth all the way down the shaft of your hard throbbing cock and started blowing you. One hard swallow and your cock filled my mouth with the largest cum shot ever!