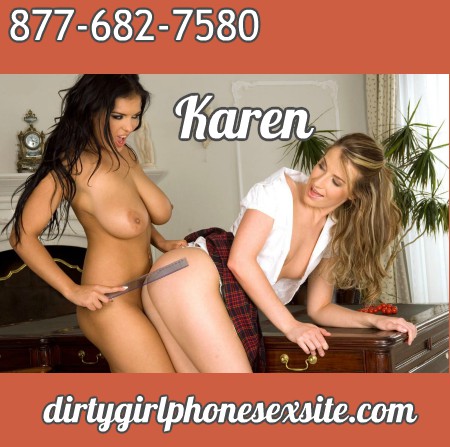 I woke up this morning feeling having had sensual fantasies about you. Sundays are my special time with you and just think about it makes my cunt soaking wet. I wasn't even dressed when I heard someone ring the doorbell. Without even thinking I said come on in the door is unlocked. To my surprise it wasn't my man but instead a cute little sex kitten named Danielle. Up until a few weeks ago she had never played with another girl. It seems that I made her pussy purr and she was back wanting some more.
She had heard from you that I loved to roleplay so she had dressed up like a naughty school girl. She walked up to me and started fingering my pussy. I decided to have a little fun with her. Plus she needs to understand who is in charge. I told her that she was a naughty girl to just walk in my house and start groping me. I grabbed her by the arm and took her into my office. I told her to lift up her skirt and bend over the desk. She is such a dirty girl that she wasn't even wearing any panties. I picked up my ruler off of my desk and spanked her ass with it.
She cried out that it hurt but her pussy was so wet that it glistened. I rubbed her hot wet cunt with my fingers for a few minutes. Then I wicked thought popped into my head. How fun it would be to fuck her tight puckered ass with the pencils on my desk. I picked up one and it looked to small. So decided to use two pencils at the same time. I slide those pencils into her tight puckered ass and started fucking her. As I reached around and rubbed her clit with my other hand. She came all over my hand. I told her that she had to stay bent over the desk with the pencils up her ass until country boy got here and we decided what to do with our new found pet.