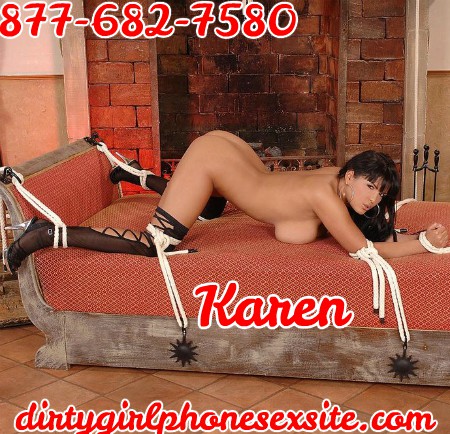 Sometimes you just need some submissive phone sex…..It has been a long and stressful week and what this dirty girl really needs is big thick cock to fuck her. But instead I am headed home for the holidays. Due to a major wreck the highway is at a stand still. I decide to exit and take the back roads. As I head down a dirty road that I believe will connect me to another highway, my car tire starts making a funny sound. I pull over on this desolated country road only to find that my tire if flat. I grab my cell phone to call triple A but I have no cell reception.
I decide to walk a little further up the road to see if I can pick up cell reception. As my luck would have it, it started to pour down rain. I could see a little cabin just a few yards away. I thought it was abandoned. The door was unlocked and I let myself in. I started a fire and took off all my wet clothes. I was laying on the bearskin rug totally naked and a little tipsy after having drunk half your bottle of jack. When you walked in and ask me what I was doing.
You were a tall handsome rugged country boy and you were not too happy that I had drank most of your jack. It seems you came here for some solitude and now you had a half drunk city girl on your hands. I reached up and grabbed your cock and told you let me cheer you up. You pulled me up off the floor and threw me on your bed. You had me tied up before I even knew what was happening.
You ask me if you knew what you did to naughty dirty girls who drank your jack and I shock my head no. You spanked my ass with your hand. It made my ass sting but my pussy tingle. You told me that I was a dirty little whore cause you could see how wet my pussy was. You grabbed my hair and forced your big hard cock in my mouth. You made me suck your cock until it was hard and throbbing. You came behind me and pressed your hard throbbing cock against my tight puckered ass. You ask me if I wanted any lube and I screamed yes please.
You said you didn't think you had any and I screamed use my pussy juices please. You plowed your big thick dick into my hot wet cunt. You thrusted every inch of your cock into me coating your cock with my pussy juices. Then you pulled out and shoved that hard throbbing cock straight up my ass without any mercy. You fucked my tight puckered raw. I thought you were taking mercy on me but you only pulled out so that you could come around and shove your cock in my mouth. You blew your load of hot jizz down my throat and I loved every minute of it!