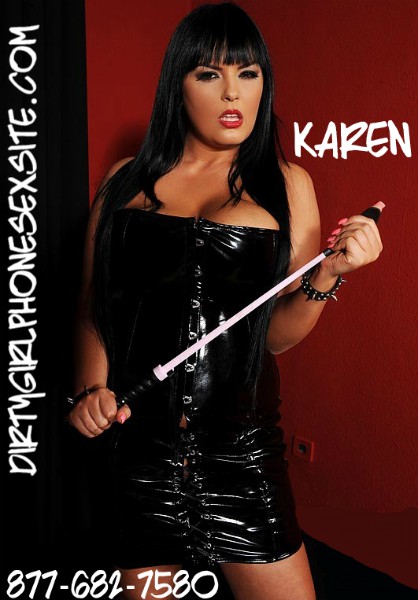 XXX sites don't have anything on this dirty girl and today I am feeling extra kinky. You have no idea what is in store for you when you get here. I have on my black lace up latex dress,my spiked bracelet, and my five inch black patent stiletto heels. When you walk through the door I am standing there holding my riding crop. I tell you to stop right there. I command you to strip naked for your Mistress. I have you get down on your hand and knees. I then walk around to the back of you and tell you the rules to our game as I rub my riding crop against your balls.
You must address me as Mistress Karen or ma'am only. I ask you if you understand and you say yes. I slap your ass hard with my riding crop and tell you to try again. You reply with yes Mistress Karen. I walk back around you and tell you to start kissing up my leg starting at the tip of my shoe and saying thank you Mistress Karen for this privilege after every kiss until I tell you to stop. Just when you reach the top of my inner thigh and you are able to get a whiff of my hot wet pussy, I have you stop. I want you to keep your head right there with your nose practically touching my juicy pussy.
I want to watch your big thick cock get hard and hear you start to beg to touch my luscious creamy cunt. You start to beg and I slap your ass with my riding crop. I tell you that you are not worthy of my pussy yet. I tell you to crawl into the bedroom. I tie you spread eagle to the four post of my bed. I blindfold you. I leave the room and come back in with a glass of fireball on the rocks. I take out an ice cube and I rub it all over your hard cock. Watching it start to melt. Then I shove what is left of it up your tight puckered ass. I take three more ice cubes out of my drink and shove those up your ass as well.
I smother your face with my creamy cunt. I make you lick both it and my tight puckered ass. I enjoy you tongue fucking my cunt so much that I cum all over your face. I shove a vibrating butt plug up your tight ass and tell you that I will be back later. I leave you tied up and walk out of the room. I want to spend the night teasing your big thick cock and fucking your ass. I want to see how long you can handle tease and denial sex before you finally explode and shoot your warm creamy cum everywhere.