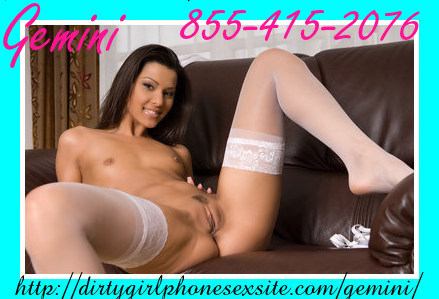 If you think having one nasty phone sex girl is awesome, just wait until you get two of us on the line. Double the sexy, double the anything goes fun, and double the orgasms. I know you might be wondering if you're even man enough to handle two of us, but don't you worry about that. We're here to make sure you're taken care of. We want to make your nasty dreams come true.
I want you to think about this – you're lying in your bed, on your back, and you see two sexy women coming toward you. We're all dressed up in lingerie and heels. We won't even have to touch you to get your cock hard. You'll get a rock-hard boner just from seeing us. Of course, you'll get your pleasure, but not before we tease you for a long, long time. We will touch your cock a little bit, but you're not allowed to touch us yet. We're going to play with you a little bit before we get started on each other. We're going to eat each other's pussies and maybe even break out a strap-on and put on a show for you. You're going to be excited but until we tell you that you can touch us, you have to keep your hands to yourself. But when we DO allow you to touch us, it's a no limits kind of situation and you can do to us whatever you desire. Have you ever had your cock sucked by two women at once? It's unbelievable.
So, if you think you can handle two women, call up me and my girl Gemini. It'll be the time of your life and you may not ever be able to go back to just single girl calls. Two girl phone sex calls is where it's at.